If you've followed my musings for any length of time, you probably know that I'm a first-generation American. As such, I've made it a mission to learn as much as I can about my family pre-emigration, so the past few years have entailed a lot of research. My mother's Scottish side has been quite easy to trace, as our clan (Forbes) is a prominent one with a well-documented history. On my father's Italian side, however, the road has been an emotional one, and at times quite frustrating.
I find that you never really recover from losing a parent; it simply becomes part of the fabric of your history, and at times that material can feel a bit delicate. My father died suddenly when I was 18 years old, at a time in my life when I was absorbed in college and building my future, so I didn't have a whole lot of interest in his history. The Calabrese are also known for their hard-headedness ("testa dura"), a trait I clearly inherited, so we weren't always the best of friends.
Now that I'm older, and traveling the world exploring food and culture, it's as if there's a giant question mark floating above my head; since my father isn't here to answer my myriad questions, I'm on my own to find out more about his homeland. Oddly enough, I've been to almost every other region of Italy, yet I seem to be saving Calabria. Perhaps because I'm trying to prepare myself.
In the interim, I'm happy to say that the rest of the world has also, at last, taken note of Calabrian cuisine, so I've been able to sample some of it from American soil while gathering the information to make my pilgrimage.
On the map of Italy, Calabria is the "toe" of the boot and home to the renowned bergamot orange, used in so many perfumes, and of course as the main accent in Earl Grey tea. Calabria's landscape is lush, and was highly prized by the ancient Greeks as well as the broad collection of invaders who chose to call the region home throughout its colorful history.
As part of Vino 2010, Italy's showcase of its regional winemakers, the Italian Trade Commission and the Region of Calabria held a winemaker's dinner enabling me to explore how Calabrian wines were paired with its foods. The meal was prepared by guest chef Vito Gnazzo of Il Gattopardo restaurant.
During the welcome reception, we were served some of my favorite flavors, like Bruschetta con N'duja, the spicy sausage so indicative of Calabria. We also had Piccoli Peperoni Ripieni di Tonno (peppers filled with tuna) and Arancini di Riso (rice balls filled with veal, peas and Pecorino cheese).
When we sat down to dinner, our antipasto was a welcoming remembrance of childhood: Carciofi e Patate in Tortiera. Though this particular combination paired braised baby artichokes and potatoes, when I was growing up we often had a variation of this with eggplant, peppers and potatoes (which I featured on the Culinary Media Network as Serafino's Sofrito). I could see this was going to be an evening of comfort.
The first course took the memories a step further with Lagane e Ceci, a thick chickpea soup with pasta. The dish had a fantastic peppery kick so familiar in Calabrian cuisine, and was paired with a big red wine, Ippolito 1845 Ciro Rosso "Liber Pater" DOC 2007. Ippolito is the oldest winery in Calabria, and this particular wine had one spicy profile. I think I may have preferred with the soup with a contrasting wine rather than another layer of spice, but I would love this wine served with beef.
The ever-familiar dried cod appeared in our second course as Lo Stocco di Mammola, a cod fish salad with parsley and extra virgin olive oil from Calabria. This dish was bright and sunny, just like its home region, and would be perfect on a summer afternoon. It was paired with Statti Lamezia Greco Bianco IGT 2008.
After a lemon sorbetto to cleanse the palate, we moved on to Cosciotto d'Agnello Lardellato al Polline di Finocchio Selvatico, a lamb shank scented with wild fennel pollen. (I do love the word finocchio, incidentally, as it is a perfect representation of Italian's melodic lingual expression.) This mild dish was paired with Cantina Val di Neto Rosso "Arke" IGT 2005.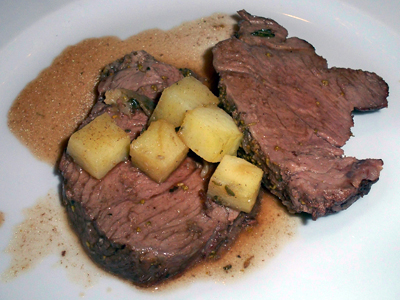 To cap the evening, we finished with a lightly sweet dish that finished things on a lovely, mellow note: Panzarotti Ripieni di Ricotta con Gelato al Miele, a crispy, flaky pastry filled with ricotta and served with honey ice cream.
This was paired with Amaro, perhaps the most indicative drink of Calabria. This rich, sweet dessert wine, F.lli Caffo Vecchio Amaro del Capo, added the perfect ending to a memorable evening.
There is much to come as I share my discoveries of the region of Calabria, but if you'd like to learn a bit more for yourself, you can visit ItalianMade.com to learn about all of Italy's wines and regional specialties. Many thanks to the Italian Trade Commission, the Region of Calabria and Chef Gnazzo for enabling me to get a taste of it for myself, and for the comfort it brought me.