Summer Cocktail Bash in NYC, TONIGHT July 25
24 Jul 2008, Posted by beverages
in
Are you ready for summer cocktails? We certainly are!
If you are in or around NYC, please join us at Union Bar on Friday July 25th from 5-7 PM as we co-host a summer cocktail bash at "Cafe PureLeaf". This special cafe within Union Bar will be celebrating a new line of bottled PureLeaf brewed teas by Lipton.
We're going to give tea time a whole new definition, so put on your party shoes and come on over!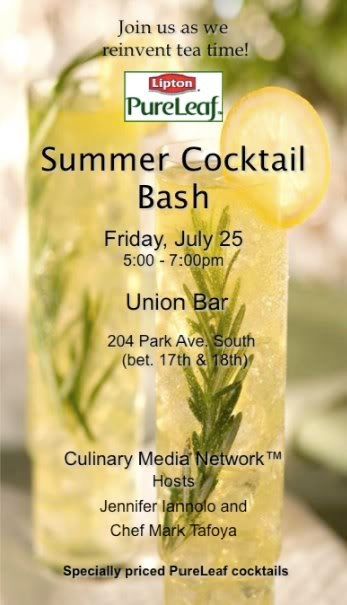 We'll be doing some live taping for our Culinary Media Network shows, especially the bartenders mixing PureLeaf teas into some tasty libations.
Union Bar
200 Park Avenue South
(betw 17th & 18th)
5:00 PM to 7:00 PM
The happy hour with drink specials will take place from 5-7, but we'll hang around for a bit afterwards.
So come on out and have a drink with us — we can't wait to meet you there! Be sure to let us know if you're coming so that we can say hello, and thank you for being a Culinary Media Network fan!