web design
If you aren't on the web, you're invisible, whether you have a small business or an award-winning restaurant. You probably know that already.
I want to make it easy for you to establish yourself on the web and communicate your message, whether it's through your web site, blog, Twitter, Facebook or any number of tools being used every day by your target consumers. All of that might seem daunting at first, but the good news is that platforms like WordPress and Thesis (now my software and theme of choice) are crafted with tools to help you master all of these media outlets pretty quickly.
Whether your site just needs a slight makeover or you want to build it from scratch, I can customize a design to suit your aesthetic and budget considerations. All of my sites come with video tutorials that will make it simple for you to maintain the site yourself, putting the tools in your hands to eliminate ongoing costs, and empowering you to update information yourself.
Please see my design samples below. Contact me for further details and pricing at 845-662-1971 or e-mail me at foodphilosophy@gmail.com.

Web Design Service: What's Included

Customized template and header (hybrid site/blog or magazine-style)
Installation of WordPress
Installation of social media/sharing widgets
Transfer of existing blog content (if applicable)
Creation of site pages (content provided by client)
Video tutorials on creating additional pages, blog posts, sidebar widgets and updating software
Additional Options
Copy writing & editing
SEO Optimization
E-mail newsletter setup
Phone consultations/tutoring (blogging, social media, video creation)
Facebook tutorials
Twitter tutorials
Google Ad Manager setup
Podcast training
Video training
Business & Education
4-Profit
Technology-focused advisory services company
Know My World
International content exchange for students, teachers & individuals
YSN.com | Your Success Network
Multimedia blog for success-driven young people from around the world
Wellness
Zenfully Delicious
Wellness site for people with chronic illness
Metrosport Physical Therapy
Physical Therapy Practice
Barefoot Rehabilitation Clinic
Chiropractic & wellness office
Humble Observer
Blog to complement Barefoot Rehabilitation Clinic
Food, Wine & Cooking
Restaurant Jean-Louis
Greenwich, CT
James Beard Award-winning restaurant
Hunter Angler Gardener Cook
Blog nominated for James Beard & IACP Awards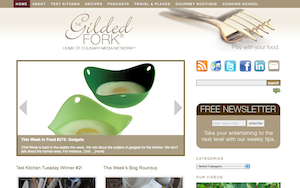 The Gilded Fork
Award-winning multimedia food site
Maitres Cuisiniers de France: USA Chapter
English-language site built to match MCF's main organization site
ReMARKable Palate
Chef Mark Tafoya's personal chef services in NYC
In the Kitchen Cooking School
New Jersey cooking school